Museum Dhondt-Dhaenens
Museumlaan 14
9831 Deurle
+32 (0)9 330 17 30
The museum is currently closed.

Admission
€ 12
Individual

€ 8
60+, –26, teachers, guides, EYCA, Cultuursmakers, groups of 10 or more
€ 0
Guided tours

€ 70
groups min. 10, max. 25 people per guide
book your visit at least two weeks in advance
tickets excluded

Workshops for schools
possible on Tuesday mornings
€ 4 per pupil, excl. entrance ticket
max. 25 pupils per group
free bus transport via dynamoOPWEG
Getting there
Changed accessibility
There are presently road works in the vicinity of the museum. You can find more information about the current situation here.
By bicycle
There are many pleasant bicycle routes in the direction of Museum Dhondt-Dhaenens. From Ghent it is about 18 km cycling to the museum, using the cycling network of Toerisme Leiestreek. Or plan your own route via Toerisme Oost-Vlaanderen.
By car
The museum is easily accessible by car and free parking is provided in front of the premises
By bus
Consult the route planner of De Lijn to get to MDD by public transport (nearest stop Deurle De Smetdreef). Due to road works, the current bus service has been changed.
In the area
Combine a visit to MDD with other museums in the area: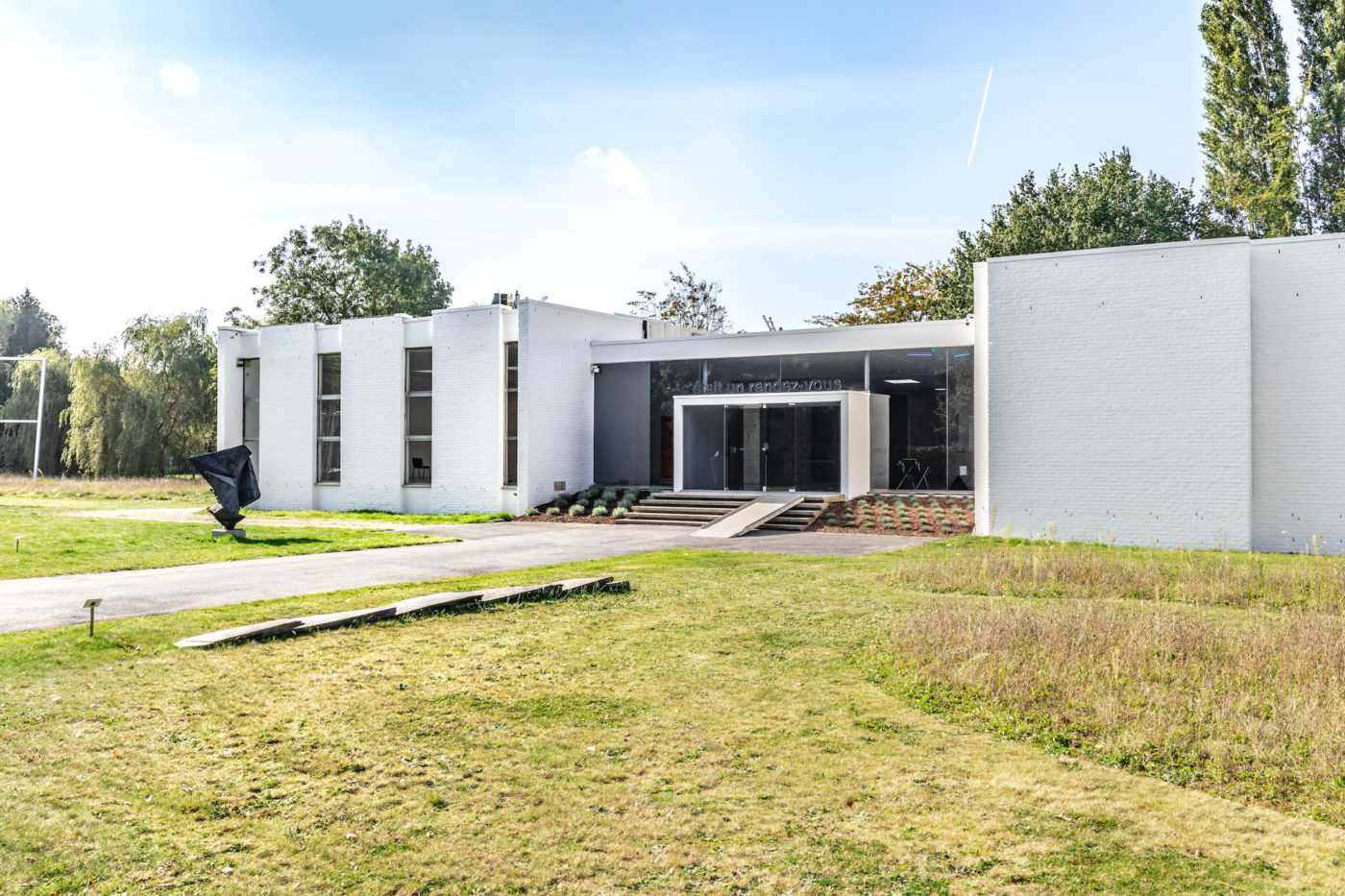 The laying of the foundation stone in 1967 marked the start of the construction of a unique and modernist building, situated between the meanders of the Lys on an adjacent plot of land next to the villa of Jules and Irma Dhondt-Dhaenens in Deurle. The elongated and simple volume was designed by architect Erik Van Biervliet (1938–1996) and is an early example of modernist architecture in Belgium after the Second World War. It was one of his first assignments as an independent architect and he continued to favour simplicity.
The brick volume of the patio hall has recessed and recessed walls and allowed the installation of narrow and gable-high windows for a unique and characteristic incidence of light. The crisp white building enters into an immediate dialogue with its wooded and ever-changing surroundings without being intrusive. The interior is open and the various rooms flow into each other, receiving natural light from the different domes in the ceiling.